Honeywell T8000- Type 2 Scba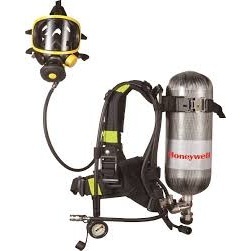 Honeywell T8000- Type 2 Scba
Product Description
Honeywell : SCBA - 800LK Type 2 T8000 SCBA
Self-Contained Open Circuit Compressed Air BreathingApparatus Type 2 and Pneumatic Gauge

The set is a self-contained open circuit type compressedair Breathing Apparatus fully approved to EN137:2006 Type 2 (meeting therequirements of IS 10245(II)). It has a nominal effective duration of 45minutes (including reserved period of 15 minutes) when calculated consideringbreathing rate of 40LPM. It maintains positive pressure inside the maskcavity when operated.
Weight:Max 6.5 Kgs (Including face mask)
Max 13 Kgs (Along with facemask and fully chargedair cylinder)
OperatingTemperature: -30 Degree C to +60 Degree C
TheBack plate is lightweight, non-metallic auto-extinguishable ensuring comfortand stability while carrying the Cylinder & it is chemical, heat &flame resistant, lightweight, anti-static & has an anatomical shape open inthe center to reduce perspiration on the back.
Itseasily accessible with 3 carrying handles, two handles on side and one in thebottom of the back plate.
Waistbelt have holder to hold LDV properly when not in use.
Thereis an additional body breather attachment in the back plate to rescue a victimwho is unconscious which means with one cylinder 2 persons can be connected (1Rescuer & 1 Victim).
Thereducer is capable of supplying required airflow for demand valve peak air flowat the rate 1400lit/min. The Nominal flow for pressure between 300 bar to 20bar would be 1000 lit/ min.
TheLDV activates automatically once it connected to the mask & maintainspositive pressure inside the mask when donned. Like traditional type it doesntrequire a first breathe to activate.
Theair supply gets automatically cut off, when demand valve is unlocked from mask
TheLDV is compact, ergonomic and robust to offer excellent respiratory comfort forany level of user workload.
Itsquick connectible from the front side of the mask and can be mounted on thewaist belt when not connected to face piece. Once connected to mask the demandvalve can be unlocked only by pushing the click buttons.
Thedesign of the LDV is in such that it opens / replaced from the hose directly,instead of replacing the entire Medium Pressure Hose along with LDV.
Thehoses have not any metallic outer cover and it is hydro tested at twice theoperatingpressure.
Apneumatic pressure gauge connected to the pressure reducer through a highpressure hose.
Thepressure Gauge is integrated with the warning whistle in a streamlined hosewithout any manifold block.
Thefull facemask is approved to EN 136 Class III.
Themask has a wide angle lens (visor) ensuring a panoramic field of vision withoutoptical distortion.
Thevisor material is heat resistant Polycarbonate with anti-scratch treatment andanti-chlorine protection.
Ithas an adjustable 5-point head harness.
Thefacemask has an exhalation valve and external speech diaphragm to optimizevoice communication
Theair cylinder have a maximum water capacity of 6.8 liters and free air capacityof min 1800 liters when filled at a pressure of 300bar.
Asuitable Moulded Plastic hand carrycase is there supplied along with the SCBAset to accommodate the entire SCBA set in it.
Approvals
EN 137 : 2006 Type 2
EN 136 Class III for Full Face mask
Trade Information
Pune

Cheque, Cash in Advance (CID), Cash Advance (CA)
1 - 4 Days

Contact us for information regarding our sample policy
All India

EN 137 : 2006 Type 2, EN 136 Class III for Full Face mask